Telephone: 0161 330 1142
tgccg.kingstreetmedicalcentre@nhs.net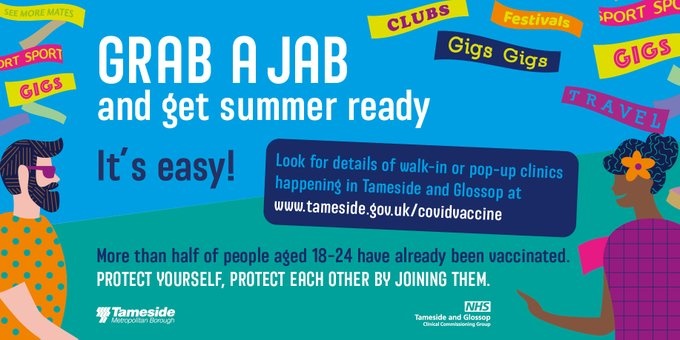 Welcome to King Street Medical Centre
The doctors and staff at King Street Medical Centre in Dukinfield are proud to offer the highest standard of patient-centred healthcare. We run many clinics for the management of chronic diseases such as asthma and diabetes and offer a wide variety of other medical services including antenatal and postnatal care, minor surgery, childhood vaccinations and well-person check-ups.
At present all appointments will be telephone/video consultations in the first instance. If a follow up 'face to face' appointment is deemed necessary, this will be booked at the time.
For patient and staff safety, all staff will be wearing Personal Protective Equipment (PPE). Patients attending a 'face to face' appointment are required to wear a face covering. A mask will be provided if you are not able to provide your own.
We are strictly limiting the number of patients in our waiting areas. Please do not arrive early for your appointment as you may be asked to wait outside.
Update Contact Details
We now use text messaging for some of our communication.  It would be helpful to have an up to date mobile telephone number for all our patients.  You can update us by using the 'update your contact details' link at the bottom of the page or by calling the surgery.

Friends and Family Test
Children
If you have a child under ten years old and he/she is taken ill please phone the surgery for an appointment any time during opening hours and we will try to fit them in as soon as possible.
Children over ten can be put down for a telephone consultation and the Doctor will phone you.
Dental Care
If you need a Dentist in an emergency please call 0161 335 2700
Virtual Patient Participation Group
Our Patient Participation Group (PPG) provides a helpful way in which to engage with our patients and to receive feedback in order to help improve our services. Ordinarily our PPG meetings take place quarterly however; due to the current Covid-19 pandemic, our meetings have been suspended.
During this time, we welcome applications to join our Virtual PPG and would be happy to discuss your views and comments with you. You can register on this website.
Latest News
Carers Week Event
Shielding Notice
For advice on shielding please see the latest guidance https://www.gov.uk/government/publications/guidance-on-shielding-and-protecting-extremely-vulnerable-persons-from-covid-19/guidance-on-shielding-and-protecting-extremely-vulnerable-persons-from-covid-19